Yodai Higashizawa
Talk

13
1,208pages on
this wiki
Yodai Higashizawa

Artwork of Yodai Higashizawa
Age
20
Sex
Male
Noise Form(s)
Ovis Cantus
Rank
Game Master
Classification
Game Master (by proxy, later officially)
Nicknames
Big Guy
Steroids
Ram Crotch
Higgy
Affiliations
Reapers
Voice Actor(s)
Kenji Takahashi (Japanese)

Travis Willingham (English)
Yodai Higashizawa (東沢 洋大, Higashizawa Yōdai?) is a character in The World Ends with You and a Reaper Officer.
Personality
Edit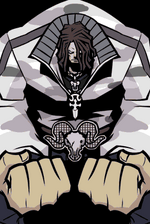 Higashizawa is a dread-locked giant and the Game master during Shiki's Chapter. He chose to follow tradition and wait until late in the game to make his appearance in the game, as opposed to Minamimoto and Konishi who both revealed themselves to the Players early on. His Noise form is a giant, bipedal ram with wings. He is shown to be the only high-ranking officer (Gamemaster and up) to regularly don reaper wings, while most others only reveal them when converting to Noise forms.
He takes great pride in his overwhelming strength and ability to split the ground in two. He also speaks with constant references to food. He has a soft side among the group, as he gets very emotional very quickly. He and Minamimoto didn't get along very well. When he is in a battle, he has several quotes such as "Time for a taste test" or "I'll pound you!" This most likely shows that he treats his battles like he is cooking a meal. After being defeated, unlike the other game masters, he congratulates the players before being erased.
Biography
Edit
Nothing is known of his background, except that it is hinted that he may have been a student of Megumi Kitaniji.
Relationships
Edit
Higashizawa is loyal to Kitaniji, treating him with respect and a mentor, even after he has become Game master. He seems to be infatuated with Shiki, saying that her jealousy will make her a "delicious meal." Although Minamimoto has made fun of him, he seems to give no reaction to the insults.
Abilities
Edit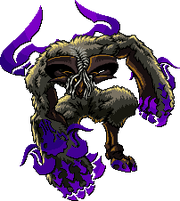 His Noise form is a giant, bipedal ram with wings called Ovis Cantus (オウィスカンタス, Owisu Kantasu?, Latin for "singing sheep"). He is an immobile boss. He does nothing except for inhaling (which absorbs Neku's psychs and prevents Shiki from attacking) until enough damage has been dealt, after which the screen will flash (at which point he is invincible), where he will say, "Now we're boiling!!" and start attacking.
His attacks include:
"Time for a taste test." - He inhales, breathing in Neku and Shiki's psychs (if Neku uses a pin, the gauge will act like the pin had been used but the actions of the pin will not be executed, nor will Ovis be damaged, and Shiki's moves won't do anything either). Unavoidable, though the best thing to do would be to stop attacking until Ovis stops inhaling. Most ranged pins, if absorbed, will heal Ovis.
"I'll mince you!" - He swipes his claw across the screen, knocking Neku to the other side of the screen, dodged by moving to the bottom or other side of the screen.
"I'll pound you!" - He pounds his fist to the ground, creating a small shockwave, dodged by moving away from his fists. He also attacks Shiki with this by chopping her with his hand.
"I'll char your bones black!" - Expels balls of energy from his mouth, dodged by dashing away from the energy balls; follows by summoning lightning bolts that damages and immobilizes Neku, dodged by dashing everywhere until the lightning bolts stop coming. He also hits Shiki with a move like this.
"We've preheated LONG ENOUGH!" - He says this once his health bar has been depleted to just the green one. Does nothing, but is a sign that he is almost erased.
Etymology
Edit
The kanji for Higashi-zawa Yo-dai literally translates to: East, swamp, ocean, big.
A scene in the manga shows that Higashizawa has poor arithmetic skills, and even confuses arithmetic with mathematics, allowing Sho Minamimoto to make fun of him.
Like the other 2 Game Masters (Minamimoto and Konishi) including Kitaniji, Higashizawa's name has the kanji affiliated with his noise form hidden inside it. In this case, the kanji affiliated with Yodai's noise form is part of a kanji in his name (the 洋 (Yo) in Yodai contains the Japanese kanji for sheep (羊).
Out of the 3 three Game Masters, Higashizawa is the most loyal to the Conductor, Kitaniji, to a point that Higashizawa could be considered Kitaniji's right-hand man.
In the Another Day side-chapter, when Neku first enters Molco, Higashizawa is the 'booth babe' and refers to Final Fantasy VII by saying 'Dilly dally, shilly shally', a line originally said by Tifa Lockhart.