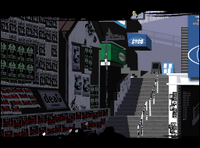 The Udagawa Back Streets is a location in The World Ends with You. It is connected to Shibu-Q Heads. The Wild Boar main store, the CAT mural, and the Cyco Records store are located here.
Spoiler warning: Plot and/or ending details follow.
Neku Sakuraba was shot and killed by Joshua here pre-game.
Sho Minamimoto's Taboo Noise refinery sigil is also located here.
On Week 2 Day 6 you will find Sho Minamimoto making his Taboo Noise refinery sigil.
On Week 3 Day 5 you will find a burned up refinery sigil, and Neku will take a picture with his phone showing that Sanae Hanekoma was there four days prior. After that you will fight posessed Uzuki Yashiro and Kariya Koki, who are under the influence of the O-pins.
Ad blocker interference detected!
Wikia is a free-to-use site that makes money from advertising. We have a modified experience for viewers using ad blockers

Wikia is not accessible if you've made further modifications. Remove the custom ad blocker rule(s) and the page will load as expected.