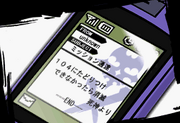 A meme is a text that Players receive when they hear words that have a connection to the mission. These memes can then be used to imprint people in the Realground and affect what they think. In game, memes have various roles. They may serve as a plot moving key, a bonus item extra, or simply a wrong answer that may bring a cutscene.
Ad blocker interference detected!
Wikia is a free-to-use site that makes money from advertising. We have a modified experience for viewers using ad blockers

Wikia is not accessible if you've made further modifications. Remove the custom ad blocker rule(s) and the page will load as expected.