Jupiter of the Monkey
Talk

4
1,208pages on
this wiki

NOTE: Jupiter of the Monkey is the name of both the Brand and the pin. This article is about the Brand Jupiter of the Monkey. The article about the pin is here.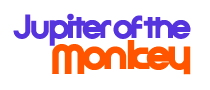 Jupiter of the Monkey (also known as J of the M) is one of the game's 13 brands. It represents the Monkey in the Chinese Zodiac. The name of the brand may also be based off the Japanese language of the Monkey King, as Jupiter was the ruler of the gods in Roman mythology or a reference to the game's co-creator, Jupiter, and to the Aesop's fable Jupiter and the Monkey. The brand's style is that of modern urban and sporty clothing, featuring zip-up parkas, loose fitting jeans, and high top sneakers. Stripes and names based off of Japanese legends and mythology are a common theme in Jupiter of the Monkey's designs, and nearly all their clothes and accessories are blue in color (with the exception of one item). Jupiter of the Monkey's threads and pins retain their Japanese names, not being based off of English words.
Almost all of the threads' abilities affect Neku, indicating that he most likely likes this brand. This is supported by the flavor text for the 'Inazuma' threads, which claims that they're Neku's favorites, as well as the flavor text for the 'Dharma' thread, which says that Neku's been wearing his non-stop. (In fact, the shirt Neku wears throughout the game is Dharma.)
Jupiter of the Monkey has one main store located in Cat Street. Pins may also be sold in Edoga and AMX.
Jupiter of the Monkey is often the most popular brand at Cat Street, due to having its main store there. Jupiter of the Monkey's pins are mostly Positive psychs involving tapping or slashing enemies. The JotM Shockwave pins, when viewed in pin number order, spell out "MONKEY". Most of the Jupiter of the Monkey pin's are named after a Japanese katana.
Featured Pins
Edit
Jupiter of the Monkey pins are easy to use, but as a beginner brand, is outclassed near the end of the game.
Ichimonji (given on W2D2) features a fast, high-efficiency psych (Lance Lunge) and is mainly used in the speedrun. Mikazuki is its superior evolution.
Yoshimitsu is the best Shockwave pin. It is possible to get this as early as W1D5 by evolving Masamune via MPP, then SDPP twice.
Featured Threads
Edit
All the threads that boost Neku's stats aren't too useful, as the better threads in the game provide boosts other than stat increases.
Jupiter of the Monkey Pins
Edit
Jupiter of the Monkey Evolution Chart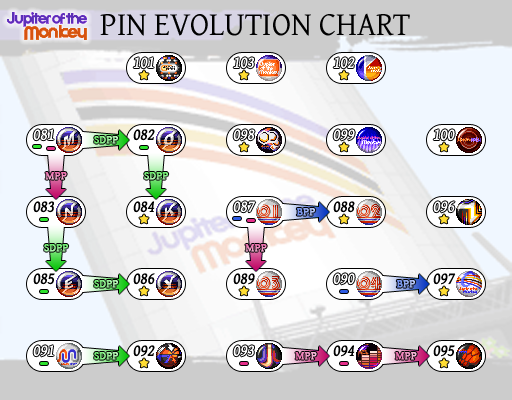 Jupiter of the Monkey Threads
Edit
| Id | Title | Threads slot | ATK bonus | DEF bonus | HP bonus | BRV req | Ability name | Ability unlocker | Sold by | Secret report event |
| --- | --- | --- | --- | --- | --- | --- | --- | --- | --- | --- |
| 159 | Amida | Top | 8 | | 53 | 40 | Neku: ATK +5 | Jupiter of the Monkey - Cat Street (FSG Lvl 3) | Jupiter of the Monkey - Cat Street | |
| 160 | Ashura | Top | 11 | | 45 | 35 | All-around Upgrade I | Jupiter of the Monkey - Cat Street (FSG Lvl 1) | Jupiter of the Monkey - Cat Street | |
| 166 | Aun | Footwear | | 11 | 38 | 40 | Neku: DEF +5 | Jupiter of the Monkey - Cat Street (FSG Lvl 3) | Jupiter of the Monkey - Cat Street | |
| 161 | Brahma | Top | 4 | | 23 | 32 | Neku: HP +40 | Jupiter of the Monkey - Cat Street (FSG Lvl 2) | Jupiter of the Monkey - Cat Street | |
| 156 | Dharma | Top | 2 | | 15 | 20 | Neku: ATK +1 | Jupiter of the Monkey - Cat Street (FSG Lvl 1) | Jupiter of the Monkey - Cat Street | |
| 155 | Fudo | Headwear | 3 | | | 15 | Neku: HP +20 | KuraKura - Shibukyu Stationside (FSG Lvl 1) | KuraKura - Shibukyu Stationside | |
| 167 | Gekirin | Footwear | | 9 | 20 | 35 | HIT Keeper II | Towa Records - Towa Records (FSG Lvl 2) | Jupiter of the Monkey - Cat Street | |
| 165 | Hannya | Bottom | | 6 | 29 | 28 | Neku: ATK +3 | Jupiter of the Monkey - Cat Street (FSG Lvl 2) | Jupiter of the Monkey - Cat Street | |
| 158 | Haramitsu | Top | 2 | | 12 | 30 | Neku: ATK +1 | Shibu-Q Heads 3F - Shibu-Q Heads (FSG Lvl 2) | Jupiter of the Monkey - Cat Street | |
| 164 | Inazuma | Bottom | | 4 | 12 | 30 | HIT Keeper I | Shibu-Q Heads 1F - Shibu-Q Heads (FSG Lvl 2) | Jupiter of the Monkey - Cat Street | |
| 168 | Karma | Accessory | 3 | 3 | 8 | 30 | Display Time | Shibu-Q Heads 3F - Shibu-Q Heads (FSG Lvl 2) | Jupiter of the Monkey - Cat Street | |
| 162 | Komokuten | Top | 5 | 1 | 25 | 25 | Neku: DEF +3 | Shibu-Q Heads 1F - Shibu-Q Heads (FSG Lvl 3) | Jupiter of the Monkey - Cat Street | |
| 169 | Naraka | Accessory | 3 | 3 | 30 | 32 | Puck Power I | Jupiter of the Monkey - Cat Street (FSG Lvl 3) | Jupiter of the Monkey - Cat Street | |
| 157 | Suiten | Top | 3 | | 24 | 30 | Neku: HP +20 | Towa Records - Towa Records (FSG Lvl 2) | Jupiter of the Monkey - Cat Street | |
| 163 | Togenkyo | Top | 7 | | 53 | 28 | Neku: HP +70 | Jupiter of the Monkey - Cat Street (FSG Lvl 5) | Jupiter of the Monkey - Cat Street | |
| 154 | Wadatsumi | Headwear | 4 | | | 20 | Neku: DEF +1 | Jupiter of the Monkey - Cat Street (FSG Lvl 1) | Jupiter of the Monkey - Cat Street | |