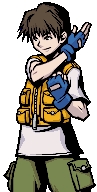 Itaru Yokoyamada (横山田 格, Yokoyamada Itaru?), nicknamed Yammer (よこやん, Yokoyan?), is a Tin Pin fan along with his friend Shuto Dan, and the pair often play Tin Pin together. However, he is jealous of Shuto's skill, leading him to be possessed by Noise at one point during the game. In the Another Day chapter, he explains that he is extremely knowledgeable of the game, however, he actually isn't very skilled at the game. Shuto is the other way around, being a very skilled player, but doesn't actually know as much about the game itself.
At Stride at Tipsy Tose Hall, Neku can play against Yammer. Upon beating him, Yammer is told by Shuto that "he can't keep relying on modded pins". After this he gives Neku his modded pins.
He and Shooter are among the people possessed by the O-Pin that are encountered in Week 3.
The kanji for Yoko-yama-da Itaru translate literally to: Sideways, mountain, rice field, rank.
Ad blocker interference detected!
Wikia is a free-to-use site that makes money from advertising. We have a modified experience for viewers using ad blockers

Wikia is not accessible if you've made further modifications. Remove the custom ad blocker rule(s) and the page will load as expected.