Hip Snake
Talk

6
1,208pages on
this wiki
NOTE: Hip Snake is the name of both the Brand and the pin. This article is about the Brand Hip Snake. The article about the pin is here.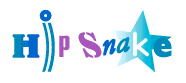 Hip Snake is one of the game's 13 brands. It represents the snake in the Chinese Zodiac. The brand's style is modeled after the vintage "hip" clothing style from the 1970s, featuring old-fashioned coats, tees, and bell-bottom jeans. Megumi Kitaniji's Noise forms, both Draco and Anguis Cantus drop Hip Snake, it is implied that his preferred brand is Hip Snake. This is further reinforced by the fact that his headphones can be found in Towa Records, an area normally dominated by the Hip Snake brand.
Hip Snake pins are mostly negative and deal sustained damage, but are also able to deal various status effects on enemies, such as Immobilize, Attack Break, and HP Drain. This can be done by repeatedly touching or slashing on individual or groups of enemies.
Hip Snake Pins 113, 114, and 115 seem to suggest spelling out "Rock and Roll" when viewed in the stockpile with pin 113 being "Rock", Pin 114 being "And" and Pin 115 being "Roll".
Featured Pins
Edit
Hip Snake features a number of exclusive psychs such as Rock Bind, Holy Light, Ignition, and Frostbite. Unfortunately, they are all among the worst psychs in the game. Avoid using any Hip Snake pins, as they are all grossly underpowered compared to other pins. Damage output is so low due to poor efficiency and slow charging that the player's battle time may suffer, causing less experience gain.
Almost every one of the starter pins is better than the Hip Snake pins. That's how bad they are.
Featured Threads
Edit
There aren't any Hip Snake threads that are worth mentioning. Threads that increase the chance of status affliction aren't too useful, as the Doomed psych is more reliable. Hip Snake is truly the weakest brand in the game.
Hip Snake Pins
Edit
Hip Snake Evolution Chart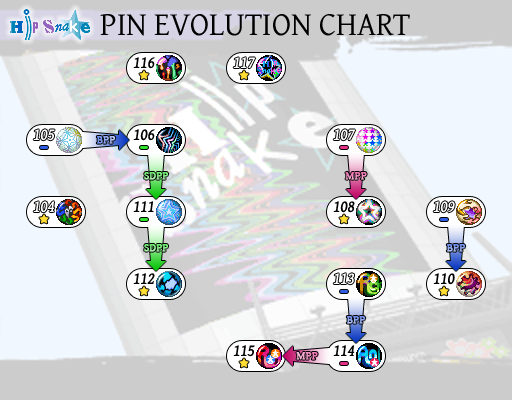 Hip Snake Threads
Edit
| Id | Title | Threads slot | ATK bonus | DEF bonus | HP bonus | BRV req | Ability name | Ability unlocker | Sold by | Secret report event |
| --- | --- | --- | --- | --- | --- | --- | --- | --- | --- | --- |
| 094 | Dandy Hat | Headwear | 4 | | | 36 | Show Combo Map Longer | Cosmic Corner - Dogenzaka (FSG Lvl 2) | Cosmic Corner - Dogenzaka | |
| 097 | Dappled Light Waltz | Top | 3 | | 20 | 30 | More Attack Breaks II | le Grand - Cadoi City (FSG Lvl 3) | le Grand - Cadoi City | |
| 107 | Flower One-piece | Top | 6 | | 50 | 60 | More Attack Breaks II | Cosmic Corner - Dogenzaka (FSG Lvl 3) | Cosmic Corner - Dogenzaka | |
| 114 | Funky Shades | Accessory | 4 | | -8 | 32 | Show Combo Map Longer | Towa Records - Towa Records (FSG Lvl 3) | KuraKura - Shibukyu Stationside | |
| 102 | High Sun Paean | Top | 9 | -1 | 62 | 50 | More Immobilization II | Cosmic Corner - Dogenzaka (FSG Lvl 3) | Cosmic Corner - Dogenzaka | |
| 104 | Hydrangea | Top | 2 | | 6 | 36 | DEF +2 | Shadow Ramen - Dogenzaka (FSG Lvl 1) | Cosmic Corner - Dogenzaka | |
| 112 | Let's Dance | Footwear | | 4 | | 30 | SOS DEF Boost I | KuraKura - Shibukyu Stationside (FSG Lvl 2) | KuraKura - Shibukyu Stationside | |
| 115 | Love & Peace | Accessory | 8 | | -12 | 39 | Beat: Fusion ★ +2 | KuraKura - Shibukyu Stationside (FSG Lvl 3) | KuraKura - Shibukyu Stationside | |
| 111 | Love in a Heartbeat | Bottom | | 9 | 8 | 75 | Combo Panel +2 | Cosmic Corner - Dogenzaka (FSG Lvl 3) | Cosmic Corner - Dogenzaka | |
| 099 | North Wind Concerto | Top | 9 | -1 | 57 | 46 | Neku: HP +40 | Edoga the Shop - 104 (FSG Lvl 3) | Edoga the Shop - 104 | |
| 101 | Sky Blue Paean | Top | 2 | | 12 | 39 | More Attack Breaks I | Shadow Ramen - Dogenzaka (FSG Lvl 2) | Cosmic Corner - Dogenzaka | |
| 116 | Slogan Bandannas | Accessory | 2 | | | 28 | Faster Puck I | Towa Records - Towa Records (FSG Lvl 3) | KuraKura - Shibukyu Stationside | |
| 100 | Spring Breeze Rhapsody | Top | 2 | | 80 | 35 | More Defense Breaks II | le Grand - Cadoi City (FSG Lvl 3) | le Grand - Cadoi City | |
| 103 | Sunflower | Top | 2 | | 15 | 39 | More Defense Breaks I | Cosmic Corner - Dogenzaka (FSG Lvl 2) | Cosmic Corner - Dogenzaka | |
| 106 | Sunshine One-piece | Top | 3 | -1 | 38 | 62 | More Immobilization I | Cosmic Corner - Dogenzaka (FSG Lvl 2) | Cosmic Corner - Dogenzaka | |
| 096 | Tree Leaf Serenade | Top | 2 | | 30 | 42 | Beat: Air Combo B | le Grand - Cadoi City (FSG Lvl 2) | le Grand - Cadoi City | |
| 105 | Tulip | Top | 2 | | 14 | 37 | More HP Drains I | Shibu-Q Heads 2F - Shibu-Q Heads (FSG Lvl 2) | Edoga the Shop - 104 | |
| 110 | When You're in Love | Bottom | -1 | 8 | 38 | 83 | Shiki: Fusion ★ +2 | Edoga the Shop - 104 (FSG Lvl 5) | Edoga the Shop - 104 | |
| 113 | Young American | Footwear | | 4 | -8 | 23 | Resist Knockback | Edoga the Shop - 104 (FSG Lvl 1) | Edoga the Shop - 104 | |
| 109 | Young Folks | Bottom | -1 | 2 | 68 | 48 | More HP Drains II | Edoga the Shop - 104 (FSG Lvl 3) | Edoga the Shop - 104 | |
| 108 | Youth's March | Bottom | | 7 | 5 | 30 | More Immobilization I | Edoga the Shop - 104 (FSG Lvl 2) | Edoga the Shop - 104 | |
| 095 | Zephyr's Elegy | Top | 4 | | 20 | 48 | Joshua: ATK +2 | Edoga the Shop - 104 (FSG Lvl 2) | Edoga the Shop - 104 | |
| 098 | Zephyr's Sonata | Top | 7 | -2 | 113 | 40 | Combo Map Upgrade II | Cosmic Corner - Dogenzaka (FSG Lvl 1) | Cosmic Corner - Dogenzaka | |