D+B
Talk

0
1,208pages on
this wiki
NOTE: D+B is the name of both the Brand and the pin. This article is about the Brand D+B. The article about the pin is here.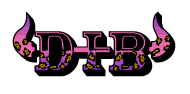 D+B (Dangerous Buffalo) is one of the 13 brands in the game. The brand represents the Ox in the Chinese Zodiac. The brand features a lot of sparkles, rhinestones, and what appears to be club wear. Some of their apparel is also cowboy themed, as is congruous with their bull theme.
D+B has two main stores; One located inside 104 building and one located in Molco. The shopkeeper in Molco is Tsubasa. D+B having a main store in 104 Building results in D+B often being the most popular brand in that area.
D+B pins mostly focus on the Piercing Pillar and Psychokinesis psychs. There are very few D+B pins in the game in comparison with most other brands.
Shiki's fusion stickers are found at D+B, as is the "Her Stuffed Animal" item. Thus it seems Shiki is fond of this brand, however the style of D+B clothing closely matches the style of Shiki during in-game cutscenes and cinematics, which would imply that Eri wore D+B style clothing and not Shiki.
The pins "Sexy D", "Sexy +", and "Sexy B", when viewed in the stockpile, spell out "D+B".
D+B's themes of club ware and ice related psyches somehow reference the belief that Oxen born in winter are granted a life of ease and comfort.
Featured Pins
Edit
Featured Threads
Edit
Star Cap (W1D4) provides an easy +5 ATK for Shiki, along with a relevant ability, which will boost her power considerably during week 1.
D+B Pins
Edit
D+B Evolution Chart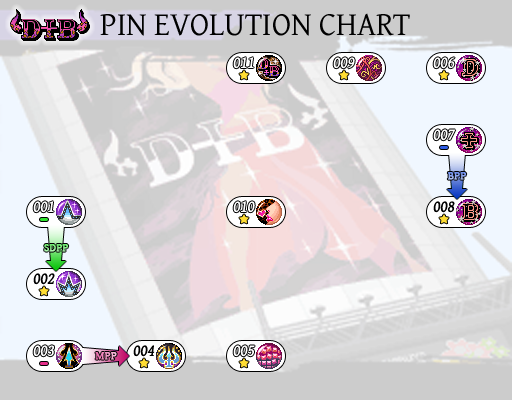 D+B Threads
Edit
Id
Title
Threads slot
ATK bonus
DEF bonus
HP bonus
BRV req
Ability name
Ability unlocker
Sold by
Secret report event
034
Black Bikini
Accessory
10
10
-30
160
Shiki: Fusion ★ +3
D+B 104 - 104 (FSG Lvl 5)
D+B 104 - 104
032
Cowboy Boots (Red)
Footwear
12
15
126
HIT Keeper II
D+B 104 - 104 (FSG Lvl 3)
D+B 104 - 104
024
Cupid Tee
Top
2
12
45
Shiki: Fusion ★ +1
D+B Molco - Molco (FSG Lvl 2)
D+B Molco - Molco
036
D+B Ring
Accessory
12
2
38
50
Puck Power II
D+B 104 - 104 (FSG Lvl 2)
D+B Molco - Molco
023
Denim Blouse
Top
5
38
40
More Defense Breaks II
D+B Molco - Molco (FSG Lvl 3)
D+B Molco - Molco
029
Denim Miniskirt
Bottom
9
60
125
Shiki: DEF +2
D+B 104 - 104 (FSG Lvl 1)
D+B 104 - 104
031
Knee-high Boots
Footwear
12
125
Shiki: ATK +2
Sunshine Stationside - Shibukyu Stationside (FSG Lvl 2)
D+B 104 - 104
D+B Molco - Molco
021
Knit Casquette
Headwear
4
18
Shiki: ATK +1
D+B Molco - Molco (FSG Lvl 1)
D+B Molco - Molco
027
Leather Shorts
Bottom
2
38
116
Resist Attack Breaks
Sunshine Shibukyu - Shibukyu Main Store (FSG Lvl 2)
D+B 104 - 104
030
Plaid Miniskirt
Bottom
3
23
120
Shiki: DEF +1
Sunshine Shibukyu - Shibukyu Main Store (FSG Lvl 2)
D+B 104 - 104
033
Purple Bikini
Accessory
5
5
-38
150
Shiki: Fusion ★ +2
D+B 104 - 104 (FSG Lvl 3)
D+B 104 - 104
025
Satin Camisole
Top
2
15
120
Shiki: DEF +1
D+B 104 - 104 (FSG Lvl 1)
D+B 104 - 104
028
Skinny Jeans (Black)
Bottom
3
30
40
Shiki: DEF +2
D+B 104 - 104 (FSG Lvl 3)
D+B 104 - 104
D+B Molco - Molco
020
Star Cap
Headwear
5
60
Shiki: Fusion ★ +1
D+B 104 - 104 (FSG Lvl 1)
D+B 104 - 104
D+B Molco - Molco
019
Stronger Cap
Headwear
4
25
Shiki: HP +10
D+B Molco - Molco (FSG Lvl 2)
D+B Molco - Molco
035
Studded Belt
Accessory
2
1
29
30
EXP Boost I
D+B Molco - Molco (FSG Lvl 3)
D+B Molco - Molco
022
Svelte Parka
Top
2
45
30
Shiki: ATK +2
Sunshine Stationside - Shibukyu Stationside (FSG Lvl 2)
D+B 104 - 104
D+B Molco - Molco
026
Vest-Blouse Combo
Top
6
26
123
Shiki: HP +20
D+B 104 - 104 (FSG Lvl 2)
D+B 104 - 104