Cat Street is a location in The World Ends with You. It is connected to Miyashita Park.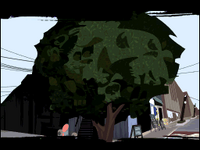 Cat Street is the street that
Mr. Hanekoma
's coffee shop
WildKat Cafe
is located on. It only has one way in, and is very far-flung from the starting place on most days, the
Scramble Crossing
.
Cat Street also houses the main, and only, shop for Jupiter of the Monkey.
what the guy at the Jupiter of the monkey shop says :
Edit
(lvl1) Yo,yo./Yo, check my flow, whatcha lookin' fo'?/Don't be whack, bro. Say come on back, yo/ Thanks to the max for those fat stacks. / Thanks for the dough, lemme check your flow 'nother day real soon. See ya, bro./You got the style to make me smile, bro.
what Hanekoma in WildKat says :
Edit
(lvl1) Welcome to... Oh, it's you guys. / What'll it be today ? / What, leaving already ? / Right-o. Anything else ? / Thanks!
Ad blocker interference detected!
Wikia is a free-to-use site that makes money from advertising. We have a modified experience for viewers using ad blockers

Wikia is not accessible if you've made further modifications. Remove the custom ad blocker rule(s) and the page will load as expected.