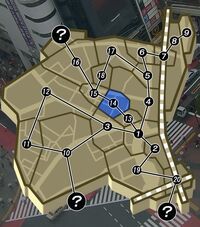 AMX
is a
Shibuya
district in
The World Ends with You
. It is also the name of the CD
store
building. It connects to the
Center St. Entrance
and to
Tipsy Tose Hall
.
CD shop AMX
Edit
AMX CD store
Type
CD collection
Shopkeeper
Masanori Ito
Max.

FSG

5
Abilities
4
The AMX CD store's vendor, Masanori Ito, can have up to a level 5 friendship, and unlocks 4 item abilities. He sells a good portion of the games soundtrack.
Level 5 friendship
(Entering the shop) "Oh, hey, my man! What's on your list today?"
"We got a ton of new releases in! I got to review some for our flyer. Check it out!"
(Upon buying something) "Man, you rock! Look at this. Only you would know to pick this."
(Upon leaving) "Thanks, man. Oh, new flyer's out! Grab one!"
The building, AMX, corresponds to the HMV Megastore in Shibuya in real-life.
Ad blocker interference detected!
Wikia is a free-to-use site that makes money from advertising. We have a modified experience for viewers using ad blockers

Wikia is not accessible if you've made further modifications. Remove the custom ad blocker rule(s) and the page will load as expected.